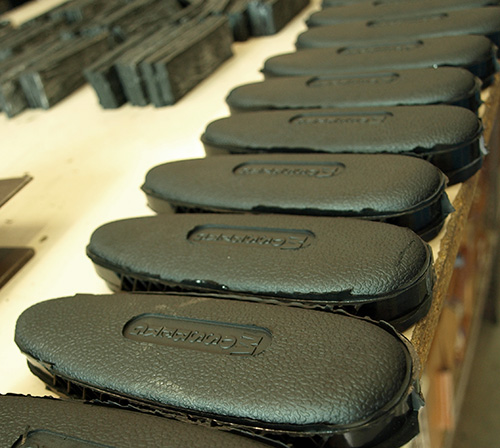 Reccocalcioli specializes in producing rubber recoil pads for rifles. NBR, Elastic, Mask, Thermo-hardening with NBs from 30 to 60 are used.

We produce recoil pads with heights ranging from 10 to 30 mm, full and ventilated, to satisfy every possible need. We have the ability to customize the recoil pads with their own name and logo.

We are the only ones to supply the recoil pads with the PVC base "flat" through the machine, in such a way as to clear any problem of cracks between the base and the wood.

On request we can insert aluminum centers in the fixing holes in such a way that, when installing and disassembling the pivot, the centering of the same is always optimal with respect to calcium. We can supply the recoil pad with a colored (white-red) pvc insert between the rubber and the pvc black sole, with a secured aesthetic result.
- RECOIL PADS IN ELASTIC FULL RUBBER
- RECOIL PADS IN ELASTIC VENTILATED RUBBER
- RECOIL PADS IN SOFT FULL RUBBER
- RECOIL PADS IN SOFT VENTILATED RUBBER